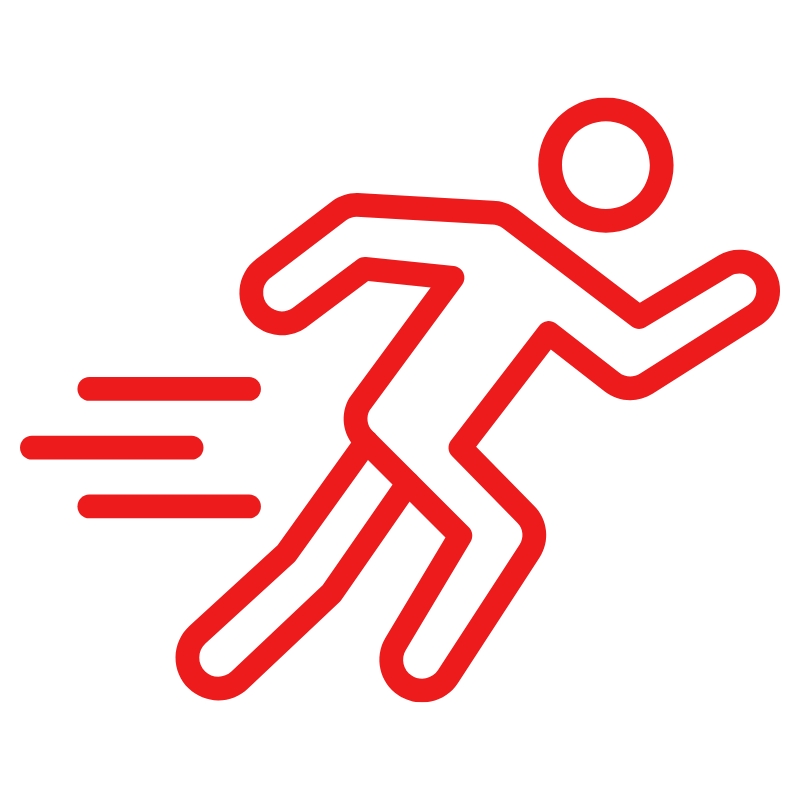 NINJA WARRIOR CLASSES FOR ALL AGES + LEVELS
At Ninja Mania, we offer fun and instructional youth ninja classes for all ages & abilities! All classes are 60 minutes long and incorporate an ever-changing variety of age appropriate upper and lower body obstacles for a fun physical challenge! Classes are broken into groups of 6-8 students and begin with a warm-up and safety review. From there instructors will guide their group through a rotation of  3-4 ninja courses while spotting them on the obstacles as needed and giving them instruction and challenges throughout. At each class we work to improve strength, agility, balance, confidence & more – all while having fun in a positive & supportive environment.
learn more
Our Ninja Team consists of 2 divisions – Sport and Pro – and athletes are selected by tryouts.
Sport Division consists of: 

Newer or younger athletes with limited or no experience competing in the sport but a lot of interest to learn & work hard 

Athletes with experience who are looking to build upon their ninja foundation, gain competitive experience, and further advance their skills & confidence.

Pro Division conists of:

Experienced athletes who train and compete at the highest level nationally year-round

For most athletes, ninja is the sport they put their most time, energy, and focus into.
We are currently in our '22-'23 season. Tryouts for the '23-'24 season coming in the Summer!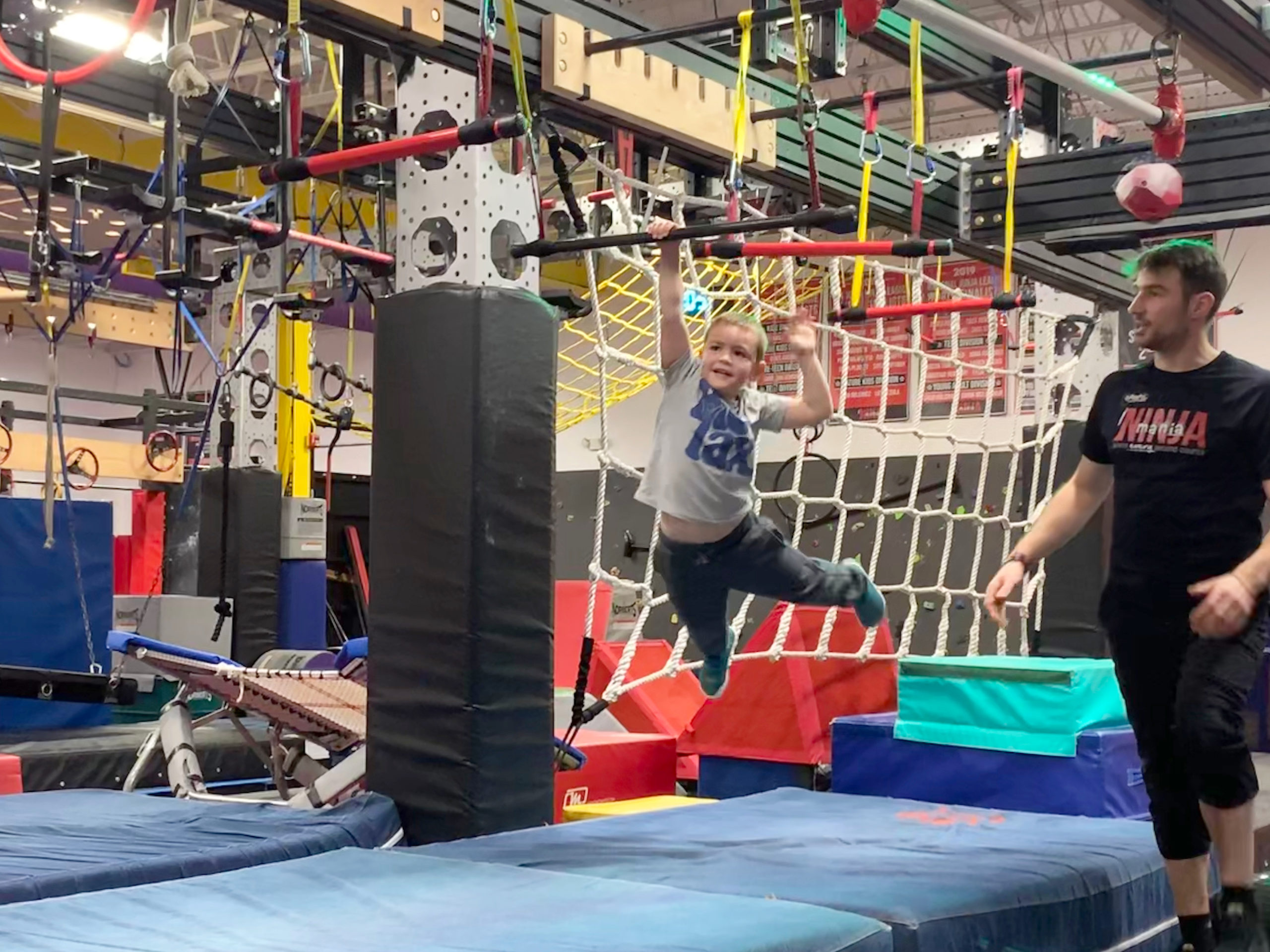 what to wear/bring to class
Please arrive with student/s as ready as possible for class:
MINI NINJAS:

Comfortable clothing.
Parents: be sure to wear comfortable attire as you will be assisting your little one in class!

JR. NINJAS / NINJAS:

Athletic attire, socks, and sneakers. Weightlifting gloves are optional. We ask Ninjas bring (2) pairs of shoes, (1) to arrive in and (1) to wear in the gym (preferably not worn outside).

Please bring a filled water bottle with your child's name on it (water only, no Gatorade/juice is allowed in the gym) or you may purchase one from a vending machine.
Please limit belongings brought into the facility. We have suspended our lost and found. All remaining water bottles/belongings will be discarded from the facility at the end of each business day.
class registration
Classes run year-round (there are no "sessions" or "terms") so you may enroll in a class any time of year, as long as there is room!
After you have found the day and time that works with your schedule, you may enroll your child in class online, over the phone or in person.
If you are enrolling your child in a class part-way through the month, tuition will be automatically prorated.
Once a child is registered for class, his/her enrollment automatically carries over each following month. Tuition is charged on the 15th of the month prior and paid by your credit card on file (ex: tuition for the month of October will be charged on the 15th of September).
If you ever wish to un-enroll, you may do so by providing a written notice (filling out a form at the front desk or sending an email to info@gymspectrum.com) prior to the 14th of the month so that your card does not get charged for the following month's tuition on the 15th. You also may re-enroll at any time; however, we cannot guarantee your child's spot will still be available.
absences & makeup requests
Please call our office or send an email when your child cannot attend class (even if it's last minute) as it helps other families schedule makeup classes.

We encourage you to please attend your regularly scheduled class because

make ups are not guaranteed and are based on availability.

We offer make-up classes for all students actively enrolled in a class.

Make up requests can be scheduled up to two weeks in advance over the phone or in person at the front desk.

Missed class will be noted in your account for up to 6 months. There will be no credits or refunds for classes missed for any reason including weather or scheduled closures.

If we close due to a holiday break or inclement weather, a make-up can be requested.
sibling/additional class discount
When enrolling your child in class, you are signing up for the same class each week (example: Junior Ninja class on Tuesday's at 4:30pm). Your enrollment guarantees the same day/time class a week.

SIBLING/ADDITIONAL CLASS DISCOUNT:

We offer a 20% discount on additional classes and/or siblings concurrently enrolled in class! The most expensive monthly tuition pays full tuition; all lesser class tuitions are discounted 20%.

EXTRA CLASSES:

We also offer free "extra" classes for all actively enrolled students, subject to availability.

For example, if you signed your child up for Tuesday's 4:30 Junior Ninja class, you may attend an extra Junior Ninja class any other day/time it is offered. All we ask is you call us in the morning on the day you are looking to attend an extra class to check if there is room.
Please note: If a child has missed his/her regular class but has already attended an extra class, the extra class will automatically transfer over to a makeup class. Please see our full make-up policy.
questions?
Visit our
Helpful Information
page for more information on:
Enrollment and un-enrollment procedures
Make-up policy
Sibling/additional class discounts
Extra classes
Gym closure dates and more!
We are always happy to help you over the phone as well and can be reached at: (203) 790-8034.
Limit: (1) free trial per child per program. Call for more info.